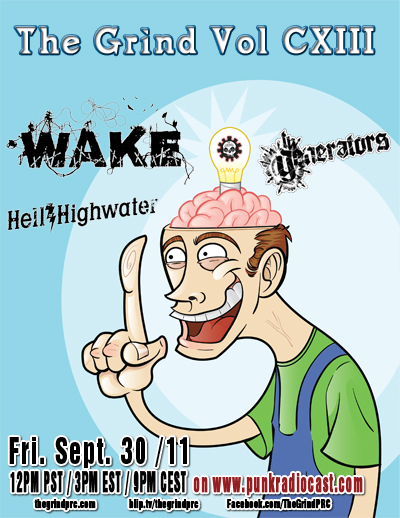 Right Click To

Original Air Date: September 30, 2011

We kick off our new season with volume 113 of The Grind.
We serve up a bit of diversity in the genre-category with the interviews featured in this volume. A new contributor , and old friend of the program, Steven Blaqart (of Punkradiocast's Action Time Radio / Blaqart Radio) brings us our first chat of the show with Doug Dagger from the legendary punk band The Generators.
Next we've got an interview done by Stacey Steel at the start of August with Calgary Grindcore act WAKE as well as some new tracks off their latest release "Leeches" to thrash to.
Our final interview is another great segment provided by Steven as he chats with Brandon Saller (Atreyu's drummer) about his new musical project Hell or Highwater. Oh, we've also got a few surprise acoustic cover performances of songs during by The Generators and Hell or Highwater during Steven's interviews.
Between all the interview segments, we've also got some kick ass tunes in our From The MailBox sections from bands such as All Else Fails and Scythia as well as some Kill Matilda, Scholar and Alexisonfire tossed in for good measure.

Coming Soon