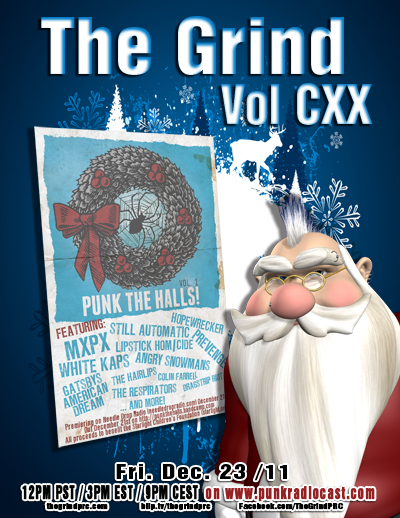 Right Click To




We're slinging some Xmas related music and talk your way with the final Grind of 2011!
Check out the show to hear an exclusive The Upset Victory Christmas song, a John Lennon cover done by musicians in the Roman scene, and Chris' conversation with Adam (from Still Automatic) about Punk The Halls Vol 1. Featuring bands like MXPX, Colin Farrell, The Hairlips,The Respirators, Gatsby's American Dream, White Kaps & More
We'll be spinning some tracks off of Punk The Halls from Bad Temper, Angry Snowmans, MXPX, Hopewrecker and Still Automatic.
Proceeds going to benefit the Starlight Children's Foundation
Find out more about Punk The Halls on their Facebook Page, Tumblr, and this video:

Original Air Date: Dec 23, 2011
26mins 13sec

0:00:00
Artist ID's / Show Intro
0:02:03
The Romans Do It Better Project - Happy Xmas (War Is Over) {Lennon Cover}

0:05:47
The Upset Victory - Slay Bells (NEW) - (Xmas Release '11)

0:10:28
Punk The Halls Vol 1. Interview Segment
Still Automatic - Do You Hear What I Hear

0:12:42
PTH Interview Seg #1

0:13:41
Angry Snowmans - Joyeux Again

0:15:11
PTH Interview Seg #2

0:16:19
Bad Temper - Christmas Stories

0:17:56
PTH Interview Seg #3

0:20:36
Hopewrecker - Merry Little Xmas

0:22:05
PTH Interview Seg #4

0:23:12
MXPX - You're The One I Miss (This Christmas)