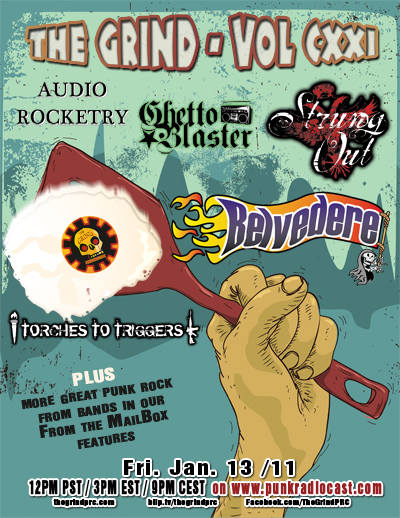 Right Click To




The Grind is back for the first show of the new year, and we're serving up a bunch of kick-yer-ass tunes and conversations with 4 Bands.
Ottawa Correspondent Marcus recently had a chat with Steve Rawles from melodic-skatepunk legends Belvedere about their recently announced reunion (following a 7 year hiatus) and upcoming shows in Canada, Europe (including Grozerock), & Brazil.
Belvedere Reunion shows 2012 info

Chris calls up a few friends to find out what's going on with their bands in the new year.
We'll be hearing from the guys in the Edmonton folk rock trio Audio Rocketry as they prepare to embark on a Canadian East Coast / Ontario / Quebec tour as well as the recent re-release (& Vinyl!) of their Piloting a Vehicle of Audible Expression album.
As well as a conversation with Crowley from the Toronto based Skacore/HipHop/Punk 4 piece Ghetto Blaster and Unknown Records.
The Grind also recently helped The Plummer Presents bring Strung Out to Calgary to play the Distillery for a kick ass New Years Eve Party.
We popped backstage to bug the guys from Strung Out about the Music 4 Cancer project, and to see what's coming up with them.
Also on the bill for that night was Torches To Triggers, a new band from Calgary comprised of founding members of Inventing The Wheel, This Is A Standoff and Obey The Fist. We'll give you a bit of an introduction to this band as they prepare for their full length debut album out later this spring.
As I type this, video of the second last band performance from this event is finalizing it's upload and you can watch this concert in pretty much it's entirety below, or in our Full Sets player on the main page.
(We're just finishing up editing on Strung Out's Set this week)
And let's not forget our From The MailBox artist features either:
-> Brews Willis (Toronto,CAN)

->They Cried Apollo! (Texas, US)

-> War of Aggression (California, US)

-> plus some new stuff from our pals in Never Been Famous (Steyr, Austria)

Hot dam!

Duration: 2hrs 6mins
Original Air Date: Jan 13, 2012

0:00:00
Show Intro / Artist IDs
0:01:00
Analog - Strung Out - (Top Contenders '11)
0:04:40
The Canadians Have Huge Squirrels Though - Never Been Famous (NEW/EXCLUSIVE Mesh of Lies '12)
0:05:48
From The MailBox Feature
Skate Or Dad Mom - Brews Willis (Nerped By a Zircon LP '11)
0:08:47
Ride The Island Baby - Brews Willis (Nerped By a Zircon LP '11)
0:11:37
Turbo Babe Acid Hammer - Brews Willis (Nerped By a Zircon LP '11)
0:13:20
Audio Rocketry Interview Segment
Boots Of Our Youth - (Piloting A Vehicle of Audible Expression '11)
0:15:54
Audio Rocketry Interview Seg #1
0:19:00
Mission Statement - (Piloting A Vehicle of Audible Expression '11)
0:20:53
Audio Rocketry Interview Seg #2
0:24:58
Inner Aesthetic - (Piloting A Vehicle of Audible Expression '11)
0:28:41
From The MailBox Feature
War Of Aggression
Nothing But Respect - (Come Out Swinging '11)
0:30:42
No More Waiting - (Come Out Swinging '11)
0:33:18
Way Of Life - (Fuck It, That's Why '10)
0:35:52
Ghetto Blaster Interview Segment
Bank Korrupt - (Think For Yourself Promo EP '11)
0:39:05
Ghetto Blaster Interview Seg #1
0:41:26
Beloved GTA - (Think For Yourself Promo EP '11)
0:44:26
Ghetto Blaster Interview Seg #2
0:50:19
Unite - (Think For Yourself Promo EP '11)
0:52:56
From The MailBox Feature:
They Cried Apollo!
Rough Guide To Suicide - (Forthcoming "A Perfect World EP" '12)
0:57:33
Wolves In The Walls - (Forthcoming "A Perfect World EP" '12)
1:02:10
From The MailBox Feature:
Never Been Famous
Separation of Powers - (exclusive "Mesh of Lies" '12)
1:06:03
One By One - (exclusive "Mesh of Lies" '12)
1:09:01
Mesh Of Lies - ( "Mesh of Lies" '12)
1:11:28
Belvedere Interview Segment
Three's A Crowd - (Fast Forward Eats The Tape '04)
1:14:11
Belvedere Interview Seg #1
1:16:37
Subhuman Nature - (Fast Forward Eats The Tape '04)
1:18:52
Belvedere Interview Seg #2
1:21:21
Distress - (Hometown Advantage Split with Downway '03)
1:24:21
Belvedere Interview Seg #3
1:26:29
Home Ice Advantage - (Hometown Advantage Split with Downway '03)
1:30:12
NYE show at the Distillery in Calgary coverage
Wilson Grove - Darkest of The Country Hearts (unreleased '12)
1:25:01
The Moment - Torches To Triggers - (forthcoming Album '12)
1:38:02
Torches To Triggers Interview Segment
1:40:53
Countdown - Torches To Triggers - (forthcoming Album '12)
1:43:19
Kamikaze - Crystal Mess - (Worm of The Earth '10)
1:46:06
Melodies Of Our Memories - PASSADO - (The Wicked That Thrills Us '09)
1:49:22
Strung Out Music 4 Cancer / Interview Segment
Firecracker - (Top Contenders '11)
1:52:12
Strung Out Interview Seg #1
1:54:56
Too Close To See - (Live In A Dive '03)
1:58:59
Strung Out Interview Seg #2
2:01:47
The Fever And The Sound - (Music 4 Cancer Charity Comp '10)