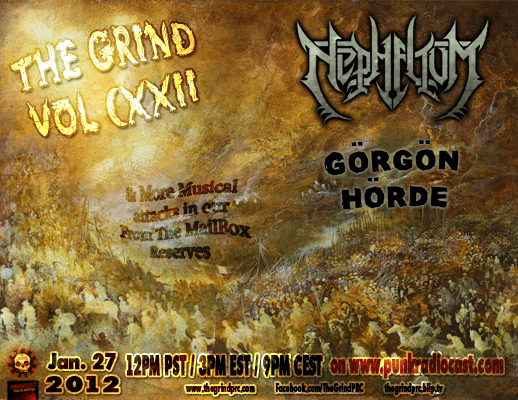 Right Click To

(Show may take a few moments to buffer depending on server load)
Volume 122 is HEAVY!
We've got 2 interviews coming your way and 4 great bands in our From The MailBox features.
Stacey catches up with Edmonton's 3 piece punk-rock-threat Görgön Hörde over Skype who are currently recording a new album for an early spring release.

Chris chats with Alex, guitarist for Toronto death metal act Nephelium who are preparing to unleash their new album Coils of Entropy onto the masses near the start of February. You can grab their single for free download now:

We're keeping with the punk rock and heavy thread of the show when we dip into our From The MailBox features including:
->Anion (HardcoreNoiseRock from Vancity/BC)

->Never More Than Less (PunkMetalHardcore from Quebec City/Quebec)

-> Slush (Punk rock from the slopes of Whistler/BC - 20 Years & going strong!)
->Defying Control (punk rock with strong DIY ethos from Lisbon/Portugal)


(NEW EP OUT THIS WEEK!!!!)
If you miss the show's airing on PunkRadioCast.com because you have a job/life/previously agreed upon social commitment... it's ok, we still love you and you can still listen in on our various archive locations.
Spread the word about the show & GrindPRC to fellow punk rockers/metal heads!

Duration: 1hr 55mins
Original Air Date: Jan 27, 2012
0:00:00
Show Intro / Artist ID's
0:01:25
Friends With The Enemy - 3 Months - (New World DisOrder - 2010)
0:04:57
Görgön Hörde Interview Segment
- Mall Cops vs Teen Goths - (Sorry Sister EP -'09)
0:06:17
Görgön Hörde Interview Seg #1
0:09:24
- Angry Scientists - (Görgön Hörde '10)
0:10:40
Görgön Hörde Interview Seg #2
0:17:24
- Görgöns Are Go - (Görgön Hörde '10)
0:19:32
Görgön Hörde Interview Seg #3
0:27:08
- Sorry Sister - ( Sorry Sister EP '09)

0:30:13
FTMB Feature on Defying Control
- Time Changes - (NEW Time Changes digi-EP '12)
0:34:42
- Dreams - (NEW Time Changes digi-EP '12)
0:39:11
Worth - Obey The Fist (Epidemic of Reason '11)
0:45:35
FTMB Feature on Slush
Falling Down - (forthcoming album '12)
0:49:41
Punchy - (forthcoming album '12)
0:54:09
Live And Die - (forthcoming album '12)
0:57:51
FTMB Feature on Nothing More Than Less
Passionate Nothing - (The Album '10)
1:02:20
The Ape Known As God - (The Album '10)
King Of Your World - (The Album '10)
1:10:07
FTMB Feature on ANION
Great Dane - (Manolete '11)
1:13:33
Torero - (Manolete '11)
1:17:33
Heart Transplant - (Manolete '11)
01:23:13
Nephelium Interview Segment
Merciless Annihilation - (Coils of Entropy '12)
01:29:31
Nephelium Interview Seg #1
1:36:18
Hellborne - (NEW Coils of Entropy '12)
1:41:16
Nephelium Interview Seg #2
1:49:55
Burial Ground - (NEW Coils of Entropy '12)