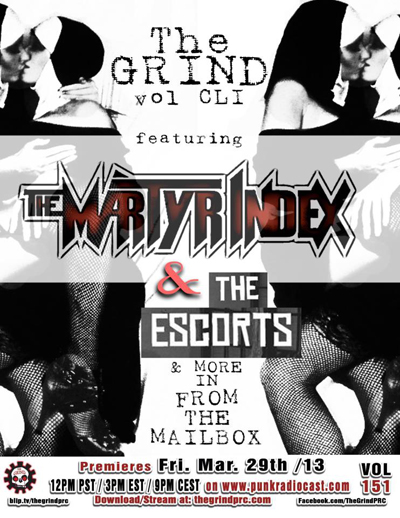 Right Click To

(Show may take a few moments to buffer depending on server load)
Still fairly busy around the GrindPRC camp, more specificially with our jobs - so a little late getting Volume 151 online, but this one is PACKED with lots of great stuff!
Stacey Steel recently talked with a couple of Calgary bands who have just released new material, The Escorts, and The Martyr Index.
We've also got lots of music from great bands in our FTMB Features like The Fail from the UK, One Bud Wiser from Australia and a bunch of Canadian content including The New Enemy and new tunes from Daywalker and The Class Assassins.

Duration: 2 Hrs 13 Minutes
0:00:00
Show Intro / Artist IDs
The Escorts - Rock N Roll King - (NEW The Escorts EP '13)
The Martyr Index - Axe To Grind - (NEW Songs In The Key Of Strife '13)
0:00:30
Show Intro
0:01:46
FTMB Feature on The Fail
Perpetual Shit - (Sink or Swim EP '13)
0:04:17
Sink or Swim - (Sink or Swim EP '13)
0:06:33
Paid Peanuts - (Sink or Swim EP '13)
0:09:15
FTMB Feature on One Bud Wiser
Waste My Time - (? '??)
0:11:48
Kokoda - (? '??)
0:14:42
Hashpipes and Looney Tunes - (? '??)
0:18:27
Interview Feature on The Escorts
The Escorts - (NEW The Escorts EP '13)
0:21:23
The Escorts Interview Seg #1
0:26:20
Break Up - (NEW The Escorts EP '13)
0:28:15
The Escorts Interview Seg #2
0:34:36
Rock N Roll King - (NEW The Escorts EP '13)
0:37:20
The Escorts Interview Seg #3
0:44:13
Where Is The Night (Bonus Track) - (NEW The Escorts EP '13)
0:47:51
FTMB Feature on Daywalker
Gotta Go - (NEW Daywalker EP '13)

0:50:59
Dead Eye - (NEW Daywalker EP '13)
0:54:19
Keep Runnin' - (NEW Daywalker EP '13)
0:58:08
You Are Nothing - (NEW Daywalker EP '13)
1:00:40
FTMB Feature on The Class Assassins
The Addiction - (NEW The Addiction & The Solution '13)
1:05:03
The Solution - (NEW The Addiction & The Solution '13)
1:14:20
FTMB Feature on The New Enemy
Dead Eye - (Darkness, She Was The Universe '12)
1:16:50
Keratine - (Darkness, She Was The Universe '12)
1:21:01
House Of Cards - (Darkness, She Was The Universe '12)
1:23:52
Interview Feature on The Martyr Index
Jailbreak - (NEW Songs In The Key Of Strife '13)
1:26:15
The Martyr Index Interview Seg #1
1:31:11
Lively Dead - (NEW Songs In The Key Of Strife '13)
1:35:00
The Martyr Index Interview Seg #2
1:39:47
Kamikaze - (NEW Songs In The Key Of Strife '13)
1:42:12
The Martyr Index Interview Seg #3
1:50:18
Survival - (NEW Songs In The Key Of Strife '13)
1:53:54
The Martyr Index Interview Seg #4
2:00:49
A Word And A Beat - (Lions EP '12)
2:04:09
The Martyr Index Interview Seg #5
2:09:37
Axe To Grind - (NEW Songs In The Key Of Strife '13)