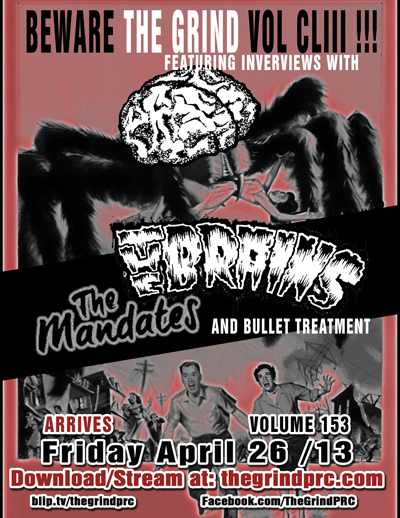 Right Click To

(Show may take a few moments to buffer depending on server load)
A lot of new stuff in The Grind Volume 153!
Our first show on the new internet station Punk Rock Radio. Interviews and new music from Montreal Psychobilly group The Brains, and Calgary rockers The Mandates.
We've got a debut of the new Bullet Treatment EP 'Ex Breathers' for your listening pleasure and some info on their pre-order.
In our From The MailBox features, we have some brand new music from The Penske File who have just released their debut album 'A Restless Symphony'.
A couple of tunes from Calgary's Don't Unplug Me as well as Vancouver's Hidden Towers and some songs, including a surf rock cover of a Slayer song, from New Mexico's Glitter Dick.

Duration 2hr 15mins
0:00:00
Artist ID's / Show Intro
The Mandates - Dagger's Girl - (NEW Self Titled '13)
The Brains - The Monster Within - (NEW The Monster Within '13)
0:03:06
Debut of Bullet Treatment's NEW EP - Ex-Breathers
Ex-Breathers - (Ex-Breathers '13)
0:03:45
The Escapist - (Ex-Breathers '13)
0:05:02
Everyone Looks Better Under Arrest - (Ex-Breathers '13)
0:07:03
Sleepwalkers - (Ex-Breathers '13)
0:07:51
The Last Time I Prayed - (Ex-Breathers '13)
0:09:16
Bacteria Mouth - (Ex-Breathers '13)
0:10:01
FTMB Feature on Don't Unplug Me
Back On Track - (NEW - Or Else EP '13)
0:14:23
One Good Reason - (NEW - Or Else EP '13)
0:18:07
Interview Feature on The Mandates
I Stayed At The Arcade - (NEW Self Titled '13)
0:20:45
The Mandates Interview Seg #1
0:24:38
Photo In My Wallet (Part II) - (NEW Self Titled '13)
0:27:05
The Mandates Interview Seg #2
0:33:41
Tonight - (NEW Self Titled '13)
0:36:32
The Mandates Interview Seg #3
0:42:08
She Gets Her Kicks From Terry Six (And Not Me) - (NEW Self Titled '13)
0:44:54
The Mandates Interview Seg #4
0:52:33
Daggers Girl - (NEW Self Titled '13)
0:55:53
FTMB Feature on Hidden Towers
Nobody Knew How High She'd Get - (Olympus Mons '13)
1:01:59
Gainsford, AB (Cup of Blood) - (Olympus Mons '13)
1:06:10
Son Of The Dragon - (Olympus Mons '13)
1:11:14
FTMB on The Penske File
The Valley - (NEW A Restless Symphony '13)
1:14:59
Battered Boat - (NEW A Restless Symphony '13)
1:18:02
Steve The Stone - (NEW A Restless Symphony '13)
1:22:05
FTMB Feature on Glitter Dick
Boston Bob Killed The Party - (Sparkling Richard '12)
1:25:26
Audiophile - (Sparkling Richard '12)
1:28:52
Surfin With Slayer (Seasons In The Abyss) - (Sparkling Richard '12)
1:32:32
Interview Feature on The Brains
High On Speed - (Drunk Not Dead '11)
1:34:25
The Brains Interview Seg #1
1:38:13
The Monster Within - (NEW The Monster Within '13)
1:40:30
The Brains Interview Seg #2
1:45:23
Gato Calavera - (Drunk Not Dead '11)
1:47:41
The Brains Interview Seg #3
1:52:05
Rolling Down - (NEW The Monster Within '13)
1:54:32
The Brains Interview Seg #4
1:59:33
Bleed - (NEW The Monster Within '13)
2:01:52
The Brains Interview Seg #5
2:05:09
Zombie Nation - (Zombie Nation '10)
2:07:43
The Brains Interview Seg #6
2:11:35
We Gotta Go- (Zombie Nation '10)