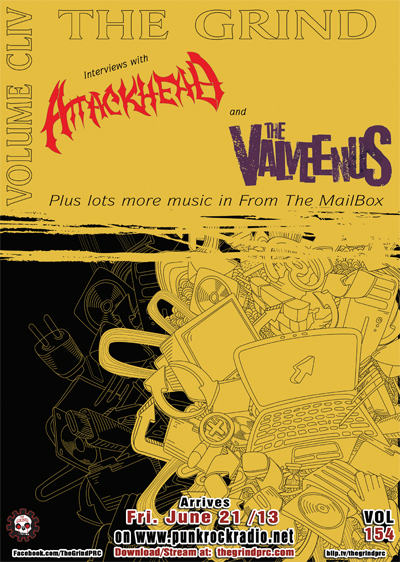 Right Click To

(Show may take a few moments to buffer depending on server load)
The Grind is back with Volume 154!
A little bit metal and a little bit punk in this one - Interviews with So Cal Thrashers Attackhead, Ottawa Punks The Valveenus, a couple of From The Mailbox Features on the UK's hardcore punks Grand Collapse and Montreal's Thrash metal heads BornBroken.
We've got a couple of tracks from Implants, A Wilhelm Scream and The Rebel Spell in there as well.

Duration 1hr 27mins
0:00:00
Artist ID's / Show Intro
Attackhead - Voices In The Dark - (Voices In The Dark: Second Attack '11)
The Valveenus - Moving On - (Moving On EP '12)
0:01:40
Implants - Once Was I - (From Chaos To Order '13)
0:05:42
A Wilhelm Scream - Australias - (S/T EP '09)
0:08:45
The Rebel Spell - Mover of Movers - (It's A Beautiful Future '11)
0:12:11
FTMB Feature on BornBroken
Bleed The Sky - (NEW The Healing Powers Of Hate '13)
0:16:25
Control - (NEW The Healing Powers Of Hate '13)
0:20:12
Anger Of The Day - (NEW The Healing Powers Of Hate '13)
0:24:04
Interview Feature on Attackhead
Blame - (Voices In The Dark: Second Attack '11)
0:29:13
Attackhead Interview Seg #1
0:34:59
Voices In The Dark - (Voices In The Dark: Second Attack '11)
0:39:37
Attackhead Interview Seg #2
0:46:45
Possessed - (Voices In The Dark: Second Attack '11)
0:51:31
FTMB Feature on Grand Collapse
Ailment (No Cure) - (Grand Collapse EP '13)
0:53:33
Grand Collapse - (Grand Collapse EP '13)
0:57:37
Forecast - (Grand Collapse EP '13)
1:00:54
Unveiling - (From Chaos To Order '13)
1:04:08
The Valveenus Interview Feature
Cold Hard Truth - (Moving On EP '12)
1:06:15
The Valveenus Interview Seg #1
1:11:16
Chemical Worker's Song - (Moving On EP '12)
1:13:21
The Valveenus Interview Seg #2
1:16:45
Moving On - (Moving On EP '12)
1:19:00
The Valveenus Inteview Seg #3
1:24:46
Misery - (Moving On EP '12)