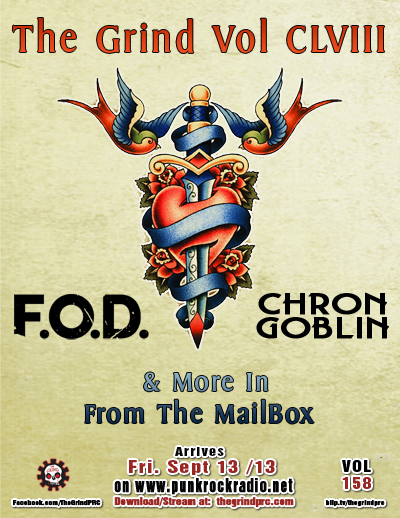 Right Click To

Left click to stream
(Show may take a few moments to buffer depending on server load)
In Volume 158 we bring you 2 interviews and 3 FTMB Features. Ottawa Correspondent Marcus caught up with Belgian punkers F.O.D. when they came to Quebec and Ontario to play a few gigs last month in support of their 'Ontario' album from earlier this year.
For our From The MailBox Features, we've got some pop-punk for grownups from the UK's Home Advantage. Some brand new melodic skatepunk from Paris' Straightaway from their newest release 'Last Exit To Nowhere'. And we kick off the show with some new original material from the talented Jenn Fiorentino and her new album from this summer; 'From Darkness To Light'.
In interview 2, Stacey Steel talks with the guys from Chron Goblin about their musical adventures (as a band and as fans) as well as their new album 'Life For The Living' out now.
Our good bud Trevor Hatter was also on hand to snap some flicks of the Chron Goblin interview - Thanks Trevor!
And last but not least, this show was released on the birthday of Dan Barkley aka Dan of Punk Rock Radio. Wish that guy a happy birthday and if you're in a band (or just a fan) make sure you check out the wicked shows they're running at PunkRockRadio.net !

Duration 1hr 28 mins
Rough Segment Start-times:
0:01:18 -Jenn Fiorentino FTMB Segment
0:13:30 -Home Advantage FTMB Segment
0:28:03 - F.O.D. Interview Feature
0:42:04 - Straightaway FTMB Segment
0:53:20 - Chron Goblin Interview Feature