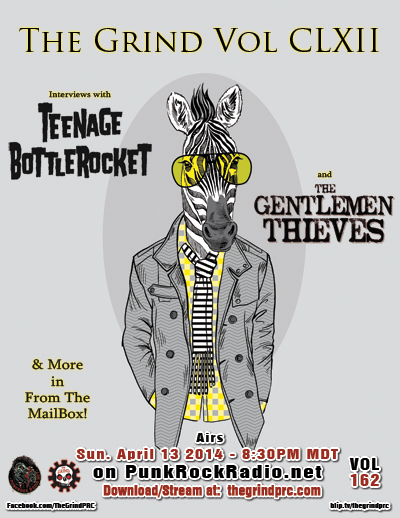 Right Click To

Left click to stream
(Show may take a few moments to buffer depending on server load)
2 interviews for you in Volume 162!
Chris catches up with Ray from Teenage Bottlerocket as they gear up for their West coast/Canadian prairie tour with Pennywise. Before that we have a chat with Ken and David from Toronto's The Gentlemen Thieves who themselves are gearing up for a cross the nation tour in support of their debut full lenght release 'Uncertainties' out on April 25th.
In the mix, we have 1 From the Mailbox feature, focusing on some Polish punk rock from 3 piece female group Brain's All Gone. As well as a bunch of new music from bands like Only Crime, Perth punks The Decline, and Montreal ska masters The Planet Smashers!
A little Memorandium for the recently passed Dave Gregg in the form of a History lesson with he and Paul McKenzie and a classic D.O.A. cut.

Duration: 1Hr 34 Mins
0:00:00
Artist IDs / Show Intro
Ken & David from The Gentlemen Thieves - excerpt of Comatose Party - (NEW Uncertainties '14)
0:00:17
Ray from Teenage Bottlerocket - excerpt of Headbanger - (Freak Out '12)
0:00:57
In Memorandum - Dave Gregg of D.O.A. & The Real McKenzies
0:02:35
D.O.A. - New Wave Sucks - (Something Better Change '80)
0:04:42
Only Crime - Contagious - (NEW forthcoming Pursuance album out May 13 '14)
0:07:28
The Planet Smashers - Tear It Up - (NEW Mixed Messages '14)
0:10:58
The Planet Smashers - You Guys Are Assholes, Let's Party - (NEW Mixed Messages '14)
0:13:05
Interview Feature on The Gentlemen Thieves
Don't Worry - (NEW Uncertainties '14)
0:16:42
The Gentlemen Thieves Interview Seg #1
0:22:04
Fading Echo - (NEW Uncertainties '14)

0:26:01
The Gentlemen Thieves Interview Seg #2
0:31:37
Comatose Party - (NEW Uncertainties '14)
0:33:30
The Gentlemen Thieves Interview Seg #3
0:37:58
Why Even Try - (NEW Uncertainties '14)
0:40:46
Teenage Bottlerocket - I'm The One Smoking Marijuana Motherfucker - (American Deutsch Bag
0:41:46
FTMB feature on Brain's All Gone
Outcast of Society - (Outcast of Society EP '13)
0:45:13
Save Me -(Outcast of Society EP '13)
0:49:48
Depends On U - (Outcast of Society EP '13)
0:53:27
The Decline - Treasure Island Was A Sausage Fest - (Can I Borrow A Feeling EP '14)
0:56:40
Interview Feature on Teenage Bottlerocket
Summertime - (Freak Out '12)
0:59:12
Teenage Bottlerocket Inteview Seg #1
1:03:44
Ich bin Ausländer und Spreche Nicht Gut Deutsch - (American Deutsch Bag EP '13)
1:04:58
Teenage Bottlerocket Interview Seg #2
1:12:11
Headbanger - (Freak Out '12)
1:14:09
Teenage Bottlerocket Interview Seg #3
1:17:29
Via Munich - (American Deutsch Bag EP '13)
1:18:55
Teenage Bottlerocket Interview Seg #4
1:25:20
Mutilate Me - (Freak Out '12)
1:28:00
Slates - Prairie Fire - (Prairie Fires '11)