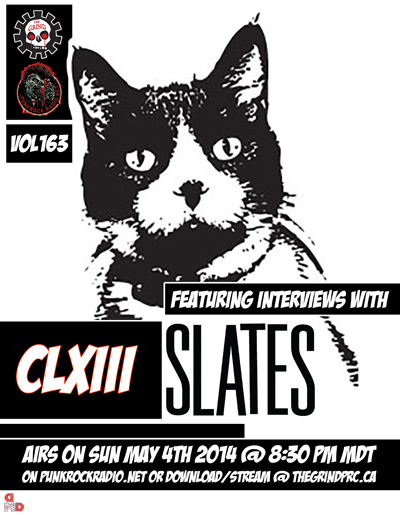 Right Click To

Left click to stream
(Show may take a few moments to buffer depending on server load)
Volume 163 of the Grind includes an interview, a CD giveaway, and 3 From The MailBox Features for your listening pleasure.
Stacey Steel catches up with Dallas and James from Edmonton based band SLATES, whom have since we last talked wiith them, signed on with New Damage Records, released their Taiga album, and recorded with the legendary Steve Albini.
SLATES will be appearing in Toronoto as part of the New Damage Records CMW Showcase Thursday May 8th at Sneeky Dees along with The Flatliners and Grimskunk.
In our From the MailBox features, we spin some goodies from bands like Israeli punk hardcore act Not On Tour, Calgary 3 piece experimental math punks MEMO, AND, we'll be giving away a copy of 'This World Is Not Yours' byItalian hardcore/skate punkers Thanx 4 All The Shoes.

Show Duration: 1Hr 17Min
0:00:00
Show Intro / Artist ID
Dallas & James from SLATES
In Division - (Taiga '14)
0:04:09
FTMB Feature on Not On Tour
Darling - (All This Time '12)
0:06:11
All This Time - (All This Time '12)
0:08:25
Operation Running - (All This Time '12)
0:09:47
FTMB Feature on Thanx 4 All The Shoes
I'm Going To Hell For Listening To Slayer - (The World Is Not Yours '14)
0:13:28
The Scene of No-Consistency - (The World Is Not Yours '14)
0:17:44
Walk The Plank - (The World Is Not Yours '14)
0:20:43
FTMB feature on MEMO
Grotto - (Suicide Forest EP '14)
0:24:49:22
Negate Necessary - (Suicide Forest EP '14)
0:28:38
Roger Ebert - (Suicide Forest EP '14)
0:33:13
Interview Feature on SLATES
Taiga - (Taiga '14)
0:37:23
SLATES interview seg #1
0:42:13
Zorlac - (Taiga '14)
0:43:48
SLATES interview seg #2
0:49:24
Annegare - (Taiga '14)
0:53:46
SLATES interview seg #3
1:01:25
Minarets - (Taiga '14)
1:06:53
SLATES interview seg #4
1:12:01
Metelko St. - (Taiga '14)