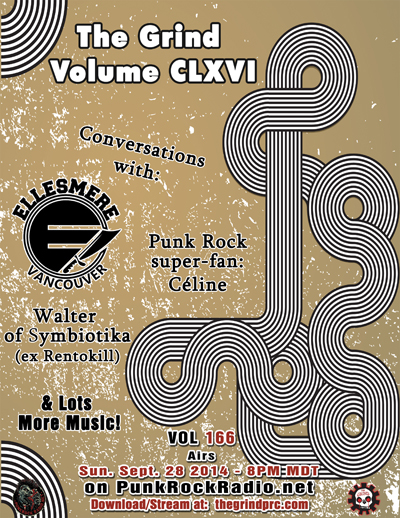 Right Click To

Left click to stream
(Show may take a few moments to buffer depending on server load)
The Grind is back after a couple months off for summer fun!
3 interviews and a bunch of sweet tunage in this one. Stacey Steel talks with Vancouver's Ellesmere on the Calgary stop of their recent Western Canadian tour. Meanwhile, in Ontario, Marc has been busy hosting international punk rock travellers including Punk Rock fan extraordinaire Céline Chessex and Walter from Symbiotika (ex Rentokill)
In the From the Mailbox segments, we hear some Swedish punk from Urban Savage, some polymetric metal from Vancouver Island's The Body Politic, and a schwack load of goodness from Winnipeg locals Union Stockyards, Mobina Galore, Triggers and Bearfight.

Duration 2Hrs
0:00:00
Show Intro / Artist ID's
Ellesmere - Forty Five - (Bail City EP '13)
Counterpunch - Destroyed By Lions - (Bruises '14)
Symbiotika - Barkeeper (Uandliche Buam EP '14)
0:03:27
Union Stockyards - Edward, Where Art Thou - (Tracks EP '14)
0:05:44
Triggers - Onward Upward - (EP '14)
0:09:02
Mobina Galore - Pieces of You - (Forthcoming release)
0:12:56
Bearfight - Die Alone - (Screaming at Snakes '14)
0:15:33
Union Stockyards - Garbage Hill - (Tracks EP '14)
0:17:09
Mobina Galore - Bad Love Song - (Forthcoming release)
0:19:37
Bearfight - Bearfight - (Screaming at Snakes '14)
0:22:22
Triggers - Gaining Ground- (EP '14)
0:25:45
Céline Interview Feature
Counterpunch - Heartstrings - (Bruises '14)
0:29:30
Céline Interview Seg #1
0:31:58
Counterpunch - Destroyed By Lions - (Bruises '14)
0:35:23
Céline Interview Seg #2
0:38:54
MUTE - Nevermore- (Thunderblast '11)
0:42:59
Ellesmere Interview Feature
Intropolis - (Bail City EP '13)
0:45:22
Ellesmere Interview Seg #1
0:49:36
Bail City - (Bail City EP '13)
0:52:22
Ellesmere Interview Seg #2
0:55:59
Man Horse - (Bail City EP '13)
0:58:14
Ellesmere Interview Seg #3
1:01:41
This Time We Ride - (Bail City EP '13)
1:04:51
Ellesmere Interview Seg #4
1:07:06
Forty Five - (Bail City EP '13)
1:10:38
FTMB Feature on Urban Savage
Minimum Wage - Maximum Slave - (Forthcoming Let Thunder Roar album)
1:13:20
No Cure For A Sick Society - (Forthcoming Let Thunder Roar album)
1:15:47
Fight To Win - Fight To Lose - (Forthcoming Let Thunder Roar album)
1:18:06
Interview Feature on Walter from Symbiotika
Symbiotika - Glückseigener Schmied - (Uandliche Buam EP '14)
1:22:39
Walter Interview Seg #1
1:23:52
Symbiotika + Welle Feat. Ericson - (Uandliche Buam EP '14)
1:26:32
Walter Interview Seg #2
1:27:39
Rentokill - Discontent Industry - (Antichorus '07)
1:29:50
Walter Interview Seg #3
1:31:51
Migre Le Tigre - Random Acts of Disillusion - (Heed The Call '13)
1:35:14
Walter Interview Seg #4
1:36:38
Rentokill - The Object - (The O.S.E. EP' 09)
1:39:28
Rentokill - The Subject - (The O.S.E. EP' 09)
1:44:34
Rentokill - The End - (The O.S.E. EP' 09)
1:46:41
FTMB Feature on The Body Politic
All Hands - (Egressor EP '14)
1:51:38
Swing For The Fences - (Egressor EP '14)
1:55:47
Armature - (Egressor EP '14)