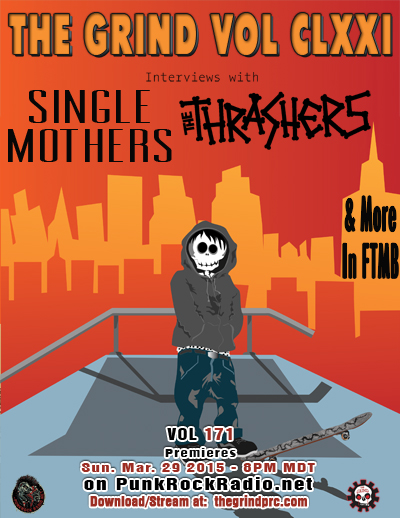 Right Click To

Left click to stream
(Show may take a few moments to buffer depending on server load)
Stacey brings us a couple of conversations in Volume 171 of the Grind!
First up is a talk with London Ontario's Single Mothers, and in the second half of the show, Winnipeg Manitoba's The Thrashers. Both bands are currently on tour, and The Thrashers just released their latest album yesterday (3/28/15)!
Marc also serves up some choice FTMB Features such as Brookhurst and Arrows Over Athens as well as some delicous picks from LAST, Waiting for Better Days, and Tea Break.
In this volume we also take a few moments to mark the passing of Todd Serious (Jenkins), from Vancouver's The Rebel Spell. Todd passed away on March 7, 2015 due to a rock climbing accident. His impact on the scene was strong, and will be missed by many!
Over the years we taked with Todd and The Rebel Spell many a time, and a few were even on the record :) Here are some links to our previous conversations if you are interested in taking a trip down memory lane to remmber this great guy.
The Grind Volume 10 - December 2007
The Grind Volume 97 - March 2011
The Grind Volume 128 - April 2012
We'll miss you Todd!
-The Grind Crew

Duration 2Hrs
0:00:00
Artist ID / Intro
Mike from Single Mothers
- Marbles- (Negative Qualities '14)
Sean & Jesse from The Thrashers
- Party on the Moon - (NEW Robot Invaders from the Death Galaxy '15)
0:00:28
Coming up in the 2nd half of the show, Stacey talks with Winnipeg's The Thrashers.
Zombie Twist - (NEW Robot Invaders from the Death Galaxy '15)
0:03:22
In Memoriam: Todd Serious (Jenkins) - The Rebel Spell
I Heard You Singing - (Last Run '14)
0:07:13
Fight For The Sun - (Last Run '14)
0:10:19
FTMB Feature on Arrows Over Athens
Thirty Years' Peace - (Myths, Monsters and the Maker EP '13)
0:13:27
Give Me Somewhere To Stand - (Myths, Monsters and the Maker EP '13)
0:15:53
And I Will Move The Earth - (Myths, Monsters and the Maker EP '13)
0:18:49
Marc's Picks
LAST - The Bastard - (S/T EP '14)
0:23:13
Waiting for Better Days - Purity (Is Not For Everyone) - (To Those Who Believe To Be Left Alone '12)
0:27:40
Feature Interview with Single Mothers
0:29:20
Marbles - (Negative Qualities '14)
0:31:50
Single Mothers Interview Seg #1
0:37:16
Ketamine - (Negative Qualities '14)
0:39:04
Single Mothers Interview Seg #2
0:42:42
Patricide - (Negative Qualities '14)
0:45:11
Single Mothers Interview Seg #3
0:50:29
Half Lit - (Negative Qualities '14)
0:52:43
FTMB Feature on Brookhurst
This Photograph - (S/T EP '15)
0:56:23
Right Now - (S/T EP '15)
0:59:56
Focus Deprived - (S/T EP '15)
1:04:08
Marc's Picks
Tea Break - Glamorous Murder - (Something's Wrong. Everything's OK EP '15)
1:08:03
Feature Interview on The Thrashers
Robot Invaders from the Death Galaxy - (NEW Robot Invaders from the Death Galaxy '15)
1:11:37
The Thrashers Interview Seg #1
1:19:26
Underwater - (NEW Robot Invaders from the Death Galaxy '15)
1:23:15
The Thrashers Interview Seg #2
1:33:15
Party On The Moon - (NEW Robot Invaders from the Death Galaxy '15)
1:36:10
The Thrashers Interview Seg #3
1:44:25
Webbed Feet - (NEW Robot Invaders from the Death Galaxy '15)
1:45:57
The Thrashers Interview Seg #4
1:56:27
Ghost Tree - (NEW Robot Invaders from the Death Galaxy '15)