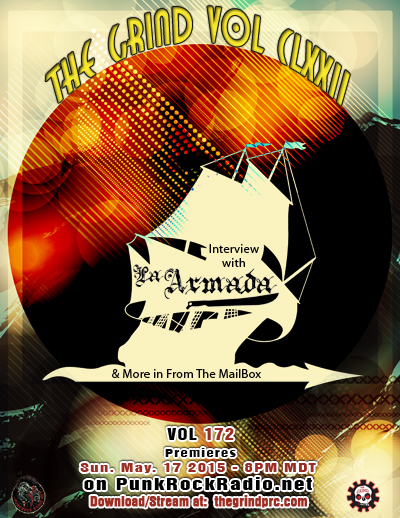 Right Click To
Left click to stream
(Show may take a few moments to buffer depending on server load)
The Grind is back in May with another Volume packed with great punk rock content!
Stacey has an epic interview with Paul and Manny from La Armada discussing the band's start in The Dominican Republic, the aspects of life (in their transplanted home in Chicago, and on the road) that influence them musically and lyrically and more.
We've also got a bunch of great From the MailBox Segments from bands like South Africa's Past Haunts, Australia's The Bennies, Winnipeg's Clipwing, Ottawa's The Brat Attack and new music from Saskatchwan's GrizzlyHawk, Belgium's The Octopussys, and Calgary's Puttin' On The Foil.

Duration 2Hrs
0:00:00
Artist ID: Manny and Paul from La Armada
Outro - (Crisis EP '14)
0:01:01
La Armada Band Overview/Interview Teaser with Stacey
0:02:24
La Armada - Chiraq - (Crisis EP '14)
0:05:10
FTMB Feature on Puttin' On The Foil
Shit Show - (NEW Fired Up, Ready To Roll EP '15)
0:08:50
Fishin' Song - (NEW Fired Up, Ready To Roll EP '15)
0:13:07
Drunk & Naked - (NEW Fired Up, Ready To Roll EP '15)
0:17:04
FTMB Feature on The Octopussys
Ink's For Squids - (NEW Leagues Below EP '15)
0:21:13
Don't Call Me Shirley - (NEW Leagues Below EP '15)
0:24:10
Friendly Fire - (NEW Leagues Below EP '15)
0:27:04
EP Feature on The Bennies
Heavy Disco - (Heavy Disco EP '14)
0:29:47
Stay Free - (Heavy Disco EP '14)
0:33:26
What's Your Fuckin' Problem? - (Heavy Disco EP '14)
0:37:00
Party Whirlwind - (Heavy Disco EP '14)
0:37:32
Green-Mix City - (Heavy Disco EP '14)
0:42:10
La Armada - Human Filth - (Crisis EP '14)
0:43:41
GrizzlyHawk - 16 Hours - (NEW / UNRELEASED Surviving the North EP '15)
0:48:41
FTMB Feature on The Brat Attack
10 Years of Resistance - ( ...And They Called Us Savages EP "15)
0:52:19
Community Project Circle Pit - ( ...And They Called Us Savages EP "15)
0:55:05
Dirty Aids Filled Indian - ( ...And They Called Us Savages EP "15)
0:57:30
When Our Heros Let Us Down - ( ...And They Called Us Savages EP "15)
0:59:49
Lagwagon - May 16 - (Let's Talk About Feelings '97)
1:02:45
FTMB Feature on Past Haunts
Once Bitten - (Others EP '14)
1:06:50
Paper Knife - (Others EP '14)
1:11:23
Tainted Lake - (Underwater Lullabies '13)
1:13:41
Interview Feature on La Armada
No Idea - (Crisis EP '14)
1:16:05
La Armada Interview Feature #1
1:21:15
Obsolescencia - (Crisis EP '14)
1:23:17
La Armada Interview Feature #2
1:29:01
V.L (Vincho-Leonelista) - (Crisis EP '14)
1:31:47
La Armada Interview Feature #3
1:37:51
Don't Need It/Attitude/Shitfit - (Crisis EP '14)
1:41:35
La Armada Interview Feature #4
1:45:16
FTMB Feature on Clipwing
Lettie Hempstock's Ocean - (Ashford EP '15)
1:49:56
Ashford - (Ashford EP '15)
1:53:45
Flash Paper - (Ashford EP '15)
1:57:35
The Rebel Spell - Please Resist - (4 Songs About Freedom '07)