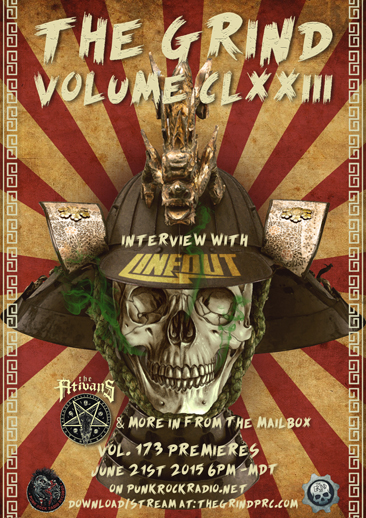 Right Click To
Left click to stream
(Show may take a few moments to buffer depending on server load)
June's Grind comes with 2 interviews and a bunch of brand NEW music!!
While staying with our international punk rock ambassador in Ottawa, the guys in Italy's LineOut took some time between sets in Ontario and Quebeck to talk with Marc about the band and how they ended up playing this year's Pouzza Fest.
Stacey caught up with the 3 dudes in The Ativans to discuss their history, influences, and recording experiences as they prepare to release their debut album in the fall.
Our From The MailBox Features include brand new music from California's Margate, , Columbia's 69 Enfermos, Calgary's The Pagans of Northumberland, as well as some tunes from Greek punks Bandage!

Duration:
1hr 30 Mins
0:00:00
Line Out Blooper / ID
Rich Boys (segment) - (Guardians of Punk Rock '14)
The Ativans ID
From The Outside (segment) - (NEW Landlocked '15)
0:01:01
Show Intro
0:02:23
Chris Cresswell - Daggers (One Week Records Release '14)
0:05:25
From the MailBox Feature on The Pagans of Northumberland
THe Moonies Don't Know - (S/T EP '15)
0:07:52
20 Years - (S/T EP '15)
0:09:58
Tear It Apart - (S/T EP '15)
0:11:44
FTMB Feature on 69 Enfermos
Choices Made - (NEW Beyond Borders '15)
0:15:31
I See It - (NEW Beyond Borders '15)
0:18:54
Numbers - (NEW Beyond Borders '15)
0:22:07
Interview Feature on LineOut
Rich Boys - (Guardians of Punk Rock '14)

0:25:12
LineOut interview Seg #1
0:30:03
Four Dragons - (Guardians of Punk Rock '14)
0:30:28
LineOut Interview Seg #2
0:36:55
Guardians of Punk Rock - (Guardians of Punk Rock '14)
0:43:20
FTMB Feature on Margate
From The Start - (NEW Beards In Paradise '15)
0:43:40
Crowd Goes Mild - (NEW Beards In Paradise '15)
0:46:35
Keep Dancin' - (NEW Beards In Paradise '15)
0:49:32
FTMB Feature on Bandage
Layers - (North By Northeast '14)
0:52:30
Failure - (North By Northeast '14)
0:56:28
Broken Parts - (North By Northeast '14)
1:00:00
Interview Feature on The Ativans
Up In Smoke - (NEW Landlocked '15)
1:03:05
The Ativans Interview Seg #1
1:08:49
Or Whatever - (NEW Landlocked '15)
1:12:07
The Ativans Interview Seg #2
1:17:38
From The Outside - (NEW Landlocked '15)
1:20:38
The Ativans Interview Seg #3
1:28:00
Jump The Shark - (NEW Landlocked '15)