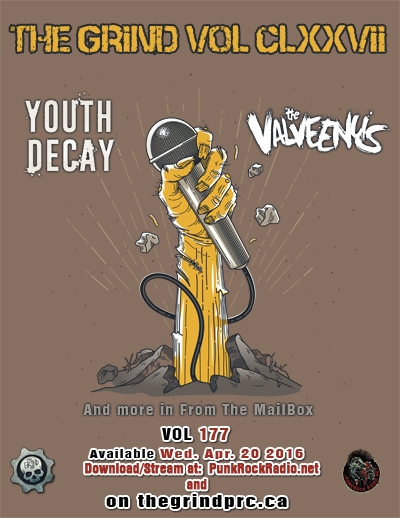 Right Click To
Left click to stream
(Show may take a few moments to buffer depending on server load)
Quick breakdown of the show for ya - 2 Interviews:
Stacey Steel talks with a couple of the dudes from Vancouver's Youth Decay about their plans for the year and their latest release; "The Party's Over".
Marc talks with the guys from Ottawa's The Valveenus about upcoming tour dates, and what's changed since we last had them on the show.
4 From the MailBox features on German Punks Honolulu Breakdown, Noisefight from Croatia, Winnipeg's Dangercat, some new tunes from Red Deer's Loser Points and a few from The Ativans and a new Belvedere track to wrap it up - Enjoy!

0:00:00
Artist ID
Youth Decay
Pot Vs Kettle - (The Party's Over '15)
The Valveenus
Behind The Lies - (Catalyst '15)
0:00:22
Show Intro
0:01:43
FTMB Feature on Loser Points
Machismo - (Buncha Bangers EP '16)
0:04:06
Geodude - (Buncha Bangers EP '16)
0:05:43
Mega Powers Unite - (Buncha Bangers EP '16)
0:08:22
FTMB Feature on Noisefight
Defy - (Downward Spiral '13)
0:12:17
American Way - (Downward Spiral '13)
0:15:55
Falling Apart - (Downward Spiral '13)
0:18:33
Interview Feature on The Valveenus
Misery - (Catalyst '15)
0:21:17
The Valveenus Interview Seg #1
0:26:03
Behind The Lines - (Catalyst '15)
0:29:39
The Valveenus Interview Seg #2
0:34:24
After All - (Catalyst '15)
0:39:11
FTMB Feature on Dangercat
Brutal - (Where I'll Be '12)
0:41:55
Head In The Clouds - (Where I'll Be '12)
0:45:19
Where I'll Be - (Where I'll Be '12)
0:48:17
FTMB Feature on Honolulu Breakdown
A Language We Don't Understand - (Billy Goat EP ' 16)
0:52:31
Surprise, Surprise - (Billy Goat EP ' 16)
0:55:52
The Void - (Billy Goat EP ' 16)
0:59:57
Interview Feature on Youth Decay
The Party's Over - (The Party's Over '15)
1:01:22
Youth Decay Interview Seg #1
1:05:02
Hysteria - (The Party's Over '15)
1:08:04
Youth Decay Interview Seg #2
1:11:33
Put It Off - (The Party's Over '15)
1:12:58
Short Fuse - (The Party's Over '15)
1:15:50
Youth Decay Interview Seg #3
1:19:06
Little Winnipeg - (The Party's Over '15)
1:22:05
Youth Decay Interview Seg #4
1:25:28
Balance - (The Party's Over '15)
1:28:06
Youth Decay Interview Seg #5
1:30:46
The Party's Over - (The Party's Over '15)
1:32:30
The Ativans
Up In Smoke - (Landlocked '15)
1:34:39
Jump The Shark - (Landlocked '15)
1:36:47
Belvedere
Hairline - (FORTHCOMING Revenge of the Fifth '16)