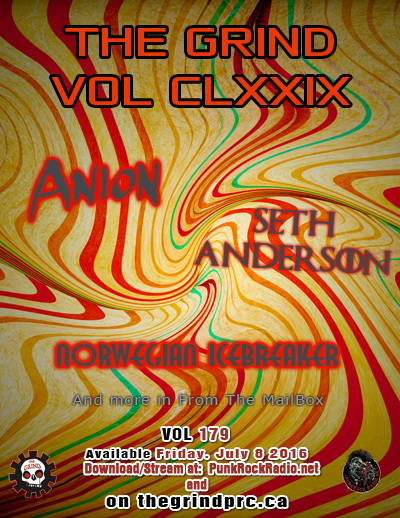 Right Click To
Left click to stream
(Show may take a few moments to buffer depending on server load)
Heeeeeeeeeeey!
The Grind is finally back with a new volume for your listening pleasure - 3 interviews in this one and a couple FTMB bands as well.
Stacey Steel hit up Calgary's Sled Island Festival once again this year (her 9th year to date) and the Festival's 10th. Amongst the partying and venue hopping, she wrangled a couple bands to chat with the show. Vancouver's ANION and Calgary's Norwegian Icebreaker are 2 of the 3 interviews in the program. The 3rd, is our bud Seth Anderson who recently released his latest effort on One Week Records.
Tune in for those chats and music from all, as well as 3 tracks each from Calgary's Julius Sumner Miller and 2/3 of Nothing.
Along with the show, Stacey also took a bunch of flicks of a bunch of bands at Sled Island - check them out in our Sled Island 2016 Galleries here!
Hit play. Turn up. Enjoy!

00:00:00
Artist ID's
Seth Anderson - Days of War - (Rocky Town Heartache '11)
Norwegian Icebreaker - Noose Thong - (NEW Unreleased '16)
ANION - Work Ethic - (Fractions of Failure '16)
0:03:19
Show Intro
0:04:39
FTMB Feature on 2/3 of Nothing
Narcissistic Fibrosis - (Mold School '16)
0:08:34
Stealing Razor Blades - (Mold School '16)
0:12:08
Two Thirds of Nothing - (Mold School '16)
0:15:44
ANION Interview Feature
The Widower - (Fractions of Failure '16)
0:20:10
ANION Interview Seg #1
0:24:24
Old Wounds - (Fractions of Failure '16)
0:26:14
ANION Interview Seg #2
0:31:18
God's Day Off
0:34:43
FTMB Feature on Julius Sumner Miller
Heart Attack in '16 - (Bandcamp Release '16)
0:38:38
Japanese Sword Fight - (Bandcamp Release '16)
0:41:39
Katie Holmes Invasion - (Bandcamp Release '16)
0:43:04
Interview Feature on Norwegian Icebreaker
The Cadillac of Tow Trucks - (NEW Unreleased '16)
0:46:14
Norwegian Icebreaker Interview Seg #1
0:50:46
We May Not Have Tomorrow, But We'll Always Have Tinnitus - (NEW Unreleased '16)
0:54:42
Norwegian Icebreaker Interview Seg #2
0:58:35
I Only Do Needlepoint - (NEW Unreleased '16)
1:01:27
Norwegian Icebreaker Interview Seg #3
1:05:47
Noose Thong - (NEW Unreleased '16)
1:08:03
Norewgian Icebreaker Interview Seg #4
1:11:16
An Increase In Inaimate Goat Violence - (NEW Unreleased '16)
1:14:46
Seth Anderson Interview Feature
Days of War - (Rocky Town Heartache '11)
1:18:03
Seth Anderson Interview Seg #1
1:23:21
Cityscapes - (One Week Records '16)
1:27:02
Seth Anderson Interview Seg #2
1:32:26
Prairie Skies (Live version of) - (One Week Records '16)
1:36:14
Seth Anderson Interview Seg #3
1:42:54
Comfort From My Cold - (Rocky Town Heartache '11)