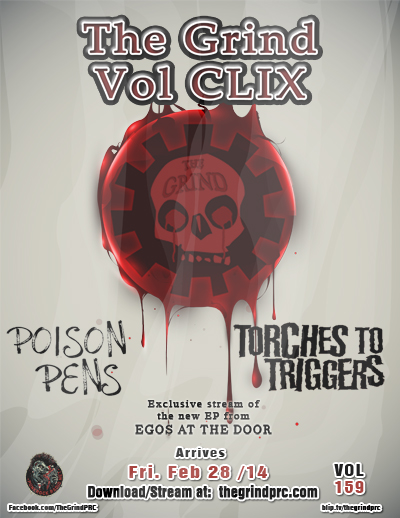 Right Click To

Left click to stream
(Show may take a few moments to buffer depending on server load)
After a few months's hiatus, we're back with a new show, new interviews, and new music!
2 Interviews from Stacey Steel, who recently caught up with Calgary's Poison Pens and Torches To Triggers to discuss their latest & forthcoming releases, respectively... Tours, line-up changes, current musical tastes, and sheepdogs(!?).
Sandwiched inbetween these inteview features, we've got the exclusive stream of the new self titled EP from UK's Egos at the Door.
Turn it up and wreck some shit - It's the Grind, Volume 159!

Duration 1hr 43 mins
0:00:00 Show Intro / Artist ID - Poison Pens - Paralyzed - (Poison Pens EP '13)

0:01:12 Poison Pens Interview Feature
The Poison Inside - (Poison Pens EP '13)

0:04:49 Poison Pens Interview Seg #1

0:11:47 Don't Sweat It - (Poison Pens EP '13)

0:15:00 Poison Pens Interview Seg #2

0:21:16 Paralyzed - (Poison Pens EP '13)

0:24:23 Poison Pens Interview Seg #3

0:29:51 Some Kind of Woman - (Poison Pens EP '13)

0:32:55 Poison Pens Interview Seg #4

0:38:02 No Matter Where You Go - (Poison Pens EP '13)


0:40:00 Exclusive Debut of Egos At The Door - Self Titled EP
For Lack of Better Words...Schnapps - (NEW Egos At The Door EP '14)

0:42:14 Salad - (NEW Egos At The Door EP '14)

0:45:29 I.I - (NEW Egos At The Door EP '14)

0:46:09 I Need An Excuse To Think - (NEW Egos At The Door EP '14)

0:48:24 II.II - (NEW Egos At The Door EP '14)

0:49:27 With My Tiny, Tiny Mind - (NEW Egos At The Door EP '14)

0:52:30 Polar Perspectives I - (NEW Egos At The Door EP '14)

0:55:48 Polar Perspectives II - (NEW Egos At The Door EP '14)


0:58:00 Interview Feature on Torches To Triggers
The Perfect Hero - (NEW Modern Day Monsters '14)

1:01:09 Torches To Triggers Interview Seg #1

1:09:54 Clay Minds - (NEW Modern Day Monsters '14)

1:13:38 Torches To Trigges Interview Seg #2

1:20:58 Sunburn - (Doomsday In Douglasdale '12)

1:23:47 Torches To Triggers Interview Seg #3

1:29:59 Dead Sea - (Doomsday In Douglasdale '12)

1:32:34 Torches To Triggers Interview Seg #4

1:40:36 Business As Usual - (Doomsday In Douglasdale '12)